Wheelchair friendly accommodation – Just what do you do when you can't find decent wheelchair accessible accommodation that doesn't look clinical like a hospital?  Just because you need a little extra help getting around, it does not mean your wheelchair accessible accommodation has to look like a hospital. 
That's why we designed this holiday house to be wheelchair friendly. In doing so, my mum (who has MS) can be independent after so many frustrating experiences booking a holiday only to discover that the accommodation was not accessible at all! I wanted others to enjoy a relaxing holiday with all the luxury touches, just like my mum does
So, check out our Accessibility FAQ below the video. Furthermore, discover why we built a holiday rental designed for accessible needs in a recent blog story here.
We provide the following equipment (free of charge):  Portable patient lifter Invacare hoist. (YOU WILL NEED TO BRING YOUR OWN SLING. A shower chair and toilet seat (with handles), a walking frame and two detachable grab bars. Large non-slip mats. So please let us know if you require them at the time of making your booking.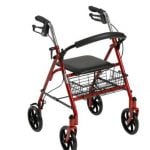 Guests are given access to the garage. From there there, it is completely level. You can access completely level area from internal garage access.
There is a slight lip at the front door and a threshold ramp is provided, a wheelchair can go over ok. However we recommend using the Garage access. Because the house is step free, with wide walkways, the accommodation is well suited to visually impaired guests too.
Yes a wheelchair can fit through. However we do not recommend it (gravel path after rain can be a challenge). We offer internal garage access as well which is completely level. 
The door is 120 cm wide with a small lip. We have portable rubber threshold ramps.
Kitchen, Dining & Outdoors
Wheelchair friendly bedroom
Wheelchair accessible bathroom
There are a total of 3 bedrooms, (2 queen size beds, and 1 bedroom with 4 bunk beds). All beds are of the highest quality ensuring comfort for your stay. Of the 3 bedrooms, there is an accessible wing with bedroom and ensuite.
Yes, bedroom for a disabled person is placed at one end of the house whilst the other 2 bedrooms are at another end of the house.
No. There is a separate wing divided by a wide sliding door for carers.
Yes. both washer and dryer at floor level, glide in and out of laundry easily.
Guide Dogs are most welcome. There is a secure back yard for toileting. An additional cleaning fee is payable if their droppings aren't collected.
Contrasting furniture: As shown on the photos, the furniture contrasts with flooring, making it easier to navigate the property. Link to detailed photos here.
Crockery and kitchenware: white crockery contrasts well with the timber dining table. Kitchenware contrasts well with the white kitchen bench tops.
At 100 Hitchcock, we have made an absolute best effort to accommodate a wide variety of access needs. It may not suit everyone, and we hope this detailed FAQ helps you make the correct choice for you. Do let us know if you have any suggestions or specific requirements.