Wheelchair friendly accommodation – Just what do you do when you can't find decent wheelchair accessible accommodation that doesn't look clinical like a hospital?  Just because you need a little extra help getting around, it does not mean your wheelchair accessible accommodation has to look like a hospital. 
That's why we designed this holiday house to be wheelchair friendly. In doing so, my mum (who has MS) can be independent after so many frustrating experiences booking a holiday only to discover that the accommodation was not accessible at all! I wanted others to enjoy a relaxing holiday with all the luxury touches, just like my mum does
So, check out our Accessibility FAQ below the video. Furthermore, discover why we built a holiday rental designed for accessible needs in a recent blog story here.
Is there a lip or a step at the front of the house?
There is a slight lip at the front door, a wheelchair can go over ok. Alternatively, you can access completely level area from internal garage access. Because the house is step free, with wide walkways, the accommodation is well suited to visually impaired guests too.
Can a wheelchair fit through the front door?
Yes a wheelchair can fit through. (We do offer internal garage access as well which is completely level). The door is 120 cm wide with a small lip.
Is the floor in the accommodation carpet or floorboards?
Polished concrete in the main living area, firm carpet in bedrooms and second living area and tiled bathrooms. Designed for wheelchairs to move around comfortably.
Is the house open plan and can a person in a wheelchair move from one room to another easily?
Yes anyone in a wheelchair has full access to the entire house. The layout is designed for visually impaired or wheelchair use.
What is the door width of all the rooms and are they accessible to a person in a wheelchair?
Extra wide sliding doors with widths ranging from 120 cm to 155 cm in every room, except the second toilet. All bedrooms and bathrooms have extra wide sliding doors.
Are there any stairs in the accommodation?
No stairs inside, however, there are 2 steps from the rear covered deck to the grass outside in the backyard. Therefore there is no wheelchair access to grass.
What equipment is provided in the house?
We provide the following equipment (free of charge):  A shower chair and toilet seat (with handles), a walking frame and two detachable grab bars. So please let us know if you require them at the time of making your booking.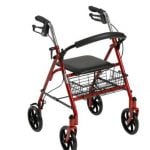 Kitchen, Dining & Outdoors
What height is the dining table and can the person's wheelchair fit underneath the table?
Height of dining table is 75 cm, and wheelchair can fit under easily.
Is there room for a person in a wheelchair to wheel under the kitchen sink and participate in kitchen tasks?
Wheelchair can move around the kitchen easily, and microwave is at hip level. However, the wheelchair cannot fit under the sink or bench. The dishwasher is easy to access.
Is the oven, pantry and fridge accessible for a person in a wheelchair?
Yes – see images  below
Is there wheelchair access to the garden/courtyard?
There is a small lip (around 5cm) from house to the outside decking and covered patio. Rest comfortably under the covered deck.  Or, if this is a concern, please bring your portable ramp. No wheelchair access to grass.
Wheelchair friendly bedroom
Is the bedroom big enough for a bed and hoist for transferring in and out of the wheelchair?
Master bedroom can easily accommodate a hoist (provided by guest or we may be able to arrange for you at cost) and beds can be moved around if required.
Are the built-in cupboards easily accessible?
Yes, there are two levels for hanging space (upper and lower) as well as slide out drawers.
What is the distance between the bed and the ground for a hoist to be able to go under the bed?
8 cm. If you bring your own blocks to raise bed, please ensure you understand this is at your own risk. The bed is heavy.
We don't provide blocks for raising the bed.  Guests may choose to hire hospital-style beds and hoists should they be needed (or we may be able to arrange for you at cost), and this is a recommended alternative, as the room is large enough to accommodate this.
Does the facility allow for a specialized bed to come in if required?
Yes. The master bedroom is large and can accommodate additional bed arranged by guest, or we may be able to arrange for you at cost (we would remove the mirror).
Wheelchair accessible bathroom
Is there an accessible ensuite to the bedroom the person in a wheelchair is using?
Yes, a wheelchair can slide under the sink and for the shower the width to get into the shower is 88 cm. total dimensions of the master shower are 124 cm wide x 188 cm.
Is the shower wheel in and out with no lip?
Yes it is, and there is no lip.
Is the shower open plan – is there a solid/glass screen door that may limit maneuverability?
No it is a frameless glass screen with width access to glide into shower being 88 cm.
Is the shower hose fixed or handheld?
Handheld adjustable hose and rain shower option.
Does the facility have a shower chair on wheels?
It has a shower chair but not on wheels, which meets Australian Safety standards. (See photos further down).
Bathroom sink – is there room for a person in a wheelchair to wheel under the sink and participate in bathroom tasks?
Yes. Sinks are certified disabled friendly.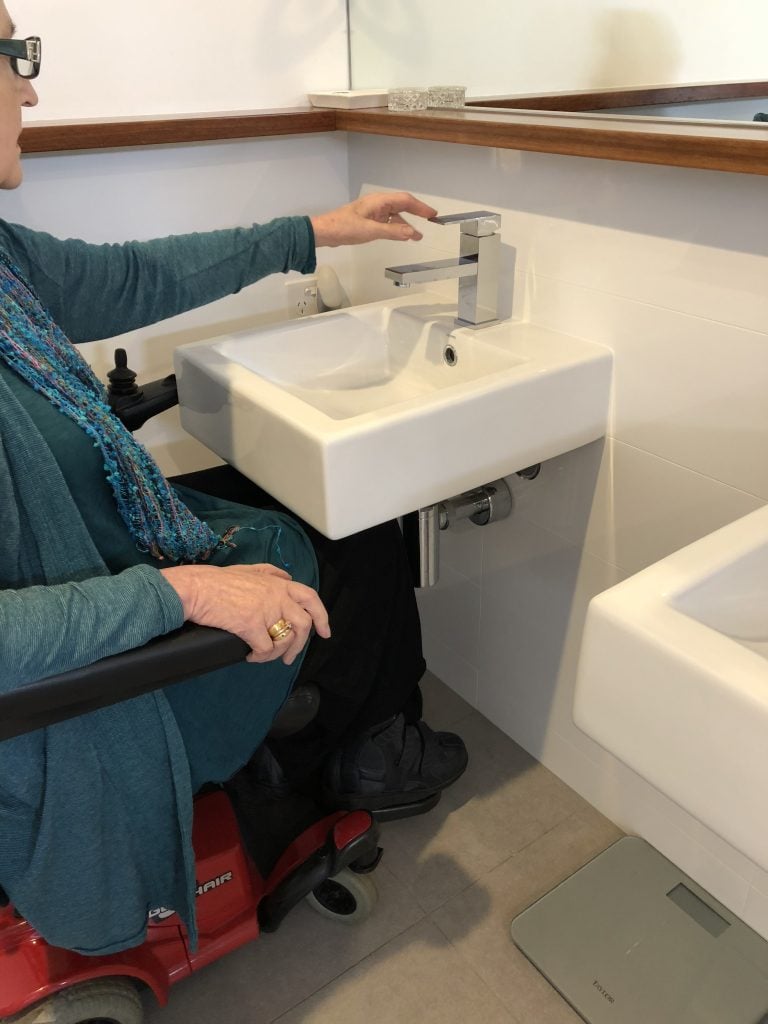 Is there room in the bathroom for a change table if required?
Not allowing for change table as well as wheelchair, (either or is fine).
Are the switches on the wall accessible to the person in the wheelchair?
What height is the toilet? Can the toilet chair fit over the top?
Height of toilet is 45 cm and yes toilet chair can be placed over the top (which we also provide for you- see photo further down). The chair provided has grab handles on the sides. If you require one without handles, please bring your own toilet chair to meet this need.
Are there any grab rails and what side are they on in the bathroom?
Yes there are 3 removable grab rails that are Australian standard approved suction cups. Therefore, this allows guests to place them where convenient (e.g. left or right handed) however grab rail cannot be used at toilet area. The toilet chair has handles on the sides of the chair.
How many bedrooms in the accommodation?
There are a total of 3 bedrooms, (2 queen size beds, and 1 bedroom with 4 bunk beds). All beds are of the highest quality ensuring comfort for your stay. Of the 3 bedrooms, there is an accessible wing with bedroom and ensuite.
What are the bedroom arrangements? Will it give the carers an opportunity to have some privacy on the breaks?
Yes, bedroom for a disabled person is placed at one end of the house whilst the other 2 bedrooms are at another end of the house.
Are there adjoining bedrooms to accommodate carers?
No. There is a separate wing divided by a wide sliding door for carers.
Is the laundry accessible?
Yes. both washer and dryer at floor level, glide in and out of laundry easily.
At 100 Hitchcock, we have made an absolute best effort to accommodate a wide variety of access needs. It may not suit everyone, and we hope this detailed FAQ helps you make the correct choice for you. Do let us know if you have any suggestions or specific requirements.