The best feature of our SeaChange village of Barwon Heads is miles of level footpaths for wheelchair cruising. See our photos and maps for your next visit in our blog here.

Miles and Miles Of Level Footpaths.
There is nothing better than being able to explore in the sunshine. Barwon Heads certainly ticks that box. So make sure your battery is fully charged, and set off on an adventure with us.
Possibly the most popular path begins with a short cruise from 100 Hitchcock to the beach a few blocks away. The path meanders along the Barwon river into town. The paths are all level, and gravel paving. Occasionally you may hit a spot of beach sand after a windy day but for the most part, enjoy meandering along the Teatree path and watch the birdlife.
You may want to stop for a loo break, a BBQ or let the kids play in the playground.
The toilets are clean and wheelchair accessible too.
Continue to the Barwon Heads Bridge where you will find sculptures and seating to watch the waves and kids paddling. Stop for a coffee at Ebb & Flow. A cafe renowned for their awesome coffee and cakes.
From there, you can cross the Barwon Heads Bridge, and then back again. The bridge is a perfect fishing spot too, with the tide coming in there is a good chance of catching a meal for the evening.
The Bridge is a particularly lovely spot during sunrise and sunset. If you love photography, perhaps time your wheelchair cruise and send us some snaps!
Continue your cruise to At The Heads Restaurant, a scene from the TV series SeaChange. A mix of concrete and timber paths, and very scenic.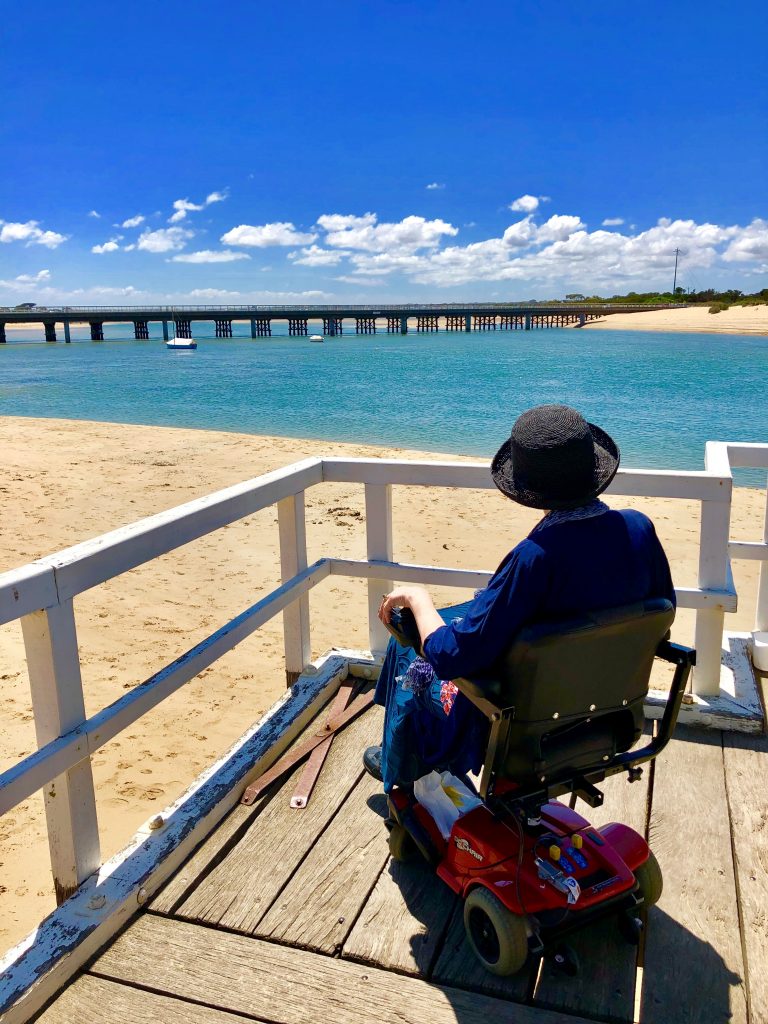 From there, follow the timber path to the jetty. Another great fishing spot. Naturally the wooden planks are a bit bumpy, however, you will love the view.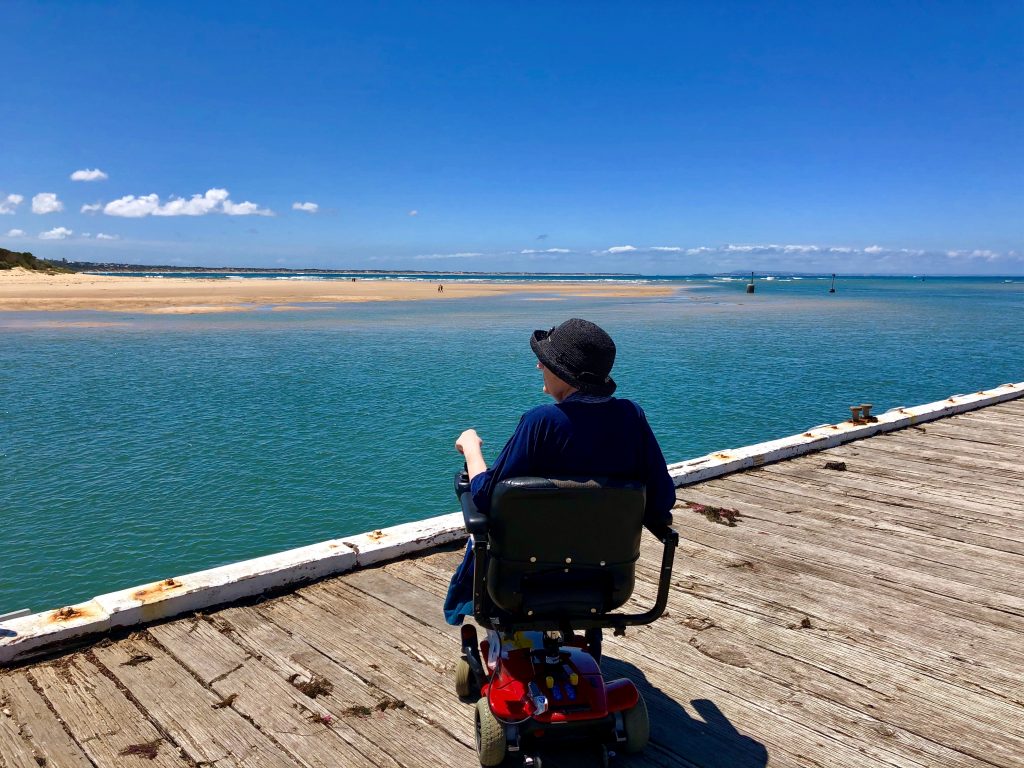 From the jetty, meander along the concrete paths running parallel to the ocean, stopping at The Bluff. It is a marine sanctuary, so you will see quite a lot of birdlife.
Return to the Bridge and Roundabout with excellent level crossings and wander into town along Hitchcock Avenue and back to the house.
Here is a map outlining where you can feel comfortable wheelchair cruising. The orange markings cover all of the above pictures. The yellow markings cover several kilometres along the inland part of the river in the photos below.
It includes several kilometres along the inland part of the Barwon Heads River. Meandering north of the property, follow the path inside the park, along the street and access the long flat river path. Explore fishing spots, and meander through farmland. It is really beautiful and peaceful.
Lots of Accessible  activities around Barwon Heads
We regularly post about activities that are suitable for disabled guests. Check out our other blogs such as Gourmet Farm to Table events and music festivals.
Consider hiring a beach wheelchair, or disabled surfing classes. Check our blog for more ideas.